Raise Our Roof
This fall, when we start construction on our performing arts center in Catskill, NY, we will raise the original lumberyard's roof by 20 feet to expand our lighting, rigging and scenic capabilities in order to replicate world class theaters and to accommodate the visions of America's most exciting performing artists.
Our work benefits many communities including the artists receiving technical residencies, the communities in the Hudson Valley and Capital Region, and performing arts presenters in NYC and beyond.
Support from our friends is vital to sustain the momentum we have now. We hope you will consider a donation to help us raise our roof!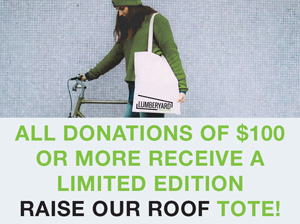 ---
LUMBERYARD artists are helping us RAISE OUR ROOF! Check back often to see more videos!